SOMETARY French Army F-1 Jacket Gobuko Dyed Wisteria Color Men's Women's [SO-F1JK01-HUJI]
Save up to

0

%
Save %
Original price
$111.00
-
Original price
$122.49
tax included
Ships in 1-5 days (depending on availability)
An original project [SOMETARY] with a craft cafe and Somer Kobo Takeo Nakaie.
This is a project to re-dye dead stock military wear that has been left unused overseas with natural dyes such as indigo and madder to create items with new appeal.
After working as a designer at a shipbuilding company, Mr. Takeo Nakaya of Someru Kobo learned dyeing techniques using natural dyes at a natural dyeing workshop in Kyoto,
Tesomemeya
, and became independent in Kyoto.
"Sometali" started when Mr. Nakaya experimentally dyed dead stock military items that were sleeping at a craft cafe.
Military wear with a rugged image is also dyed in layers with vegetable dyes, giving it a color that naturally blends into everyday life. In addition, in the process of plant dyeing, a moderate vintage feeling is added, and it changes to a tasteful expression.
Born from the idea of ​​"vegetable dyeing x military", "SOMETALI" has an atmosphere that can be enjoyed not only by those who like military fashion, but also by men and women.
"Sometali", "Tameshitari", "Tsukuttari"... We will deliver items that you can meet new discoveries born through trial and error with natural dyes.
A popular F-1 jacket representing the French army.
The nuanced gray dyed with Gobuko gives it a mature atmosphere.
front


back
Hand-dyed by craftsmen to make it easy to incorporate into your usual coordination.
By dyeing the khaki fabric, which has a strong military taste, with Gobuko, it became a deep purple-tinged gray.
It has a vintage feel to it, so it's recommended for those who like military and second-hand clothes.
A well-balanced design that is typical of French military. It's a smart outfit that doesn't look too rugged.
Model is 161cm (female) and wears size S


side/back


Fashionable detail like French military. You can even feel the elegant atmosphere.
The thin fabric is recommended for the chilly seasons of autumn and spring.
The sizes are for both men and women, so if a woman wears it, it will be a little oversized. Even when paired with a winter knit, it won't look bulky, so you can use it even in winter.
Not only is it great for casual styles such as denim and wide pants, but it is also recommended to coordinate with neat items like a tailored jacket.
The design is easy to coordinate with other outfits, so it is very useful to have one.
The nuanced colors incorporate a mature and mature look for a higher-grade outfit.
Gimmick seen in details. It is also fully functional.
By fastening the button on the collar, it can be covered up to the neck.


The vertical zipper pocket on the chest is the point. The front button is a winged type that does not get caught.


There is also a flap pocket with a snap button on the waist that can hold a smartphone or mini wallet.


The cuff buttons can be adjusted in two steps.



Made of soft herringbone material, it has a casual and tasteful specification.


Gobuko dyeing, a traditional dyeing material that has been used since the Heian period.
The nuanced color makes use of the unique purple color and creates a mature feeling.
Compared to other military wear, it is packed with fashionable specifications, making it easy to incorporate into your everyday coordination.
This item is highly recommended for those who like American casual, vintage, military, and work styles.
As it is a size for both men and women, you can wear it as a pair for couples!
Not only for yourself, but also as a gift for birthdays, anniversaries, celebrations, Valentine's Day, Father's Day, Mother's Day, Respect for the Aged Day, Christmas, etc.
It takes several days from the start of dyeing to the finish, repeating the process of burning the dye plants, dyeing, mordant, and leaving.

Insect bumps that can be taken from Nurde (white glue tree) are called gobuko.
It is also used for medicinal purposes, and can be dyed purple, gray, or black.


Mr. Nakaya boiling the dye


Material/processing
100% cotton / Gobaishizome

Color
Fuji-nezu-iro (dark gray)
size
S・M・L
*The price of L size will change depending on the size up.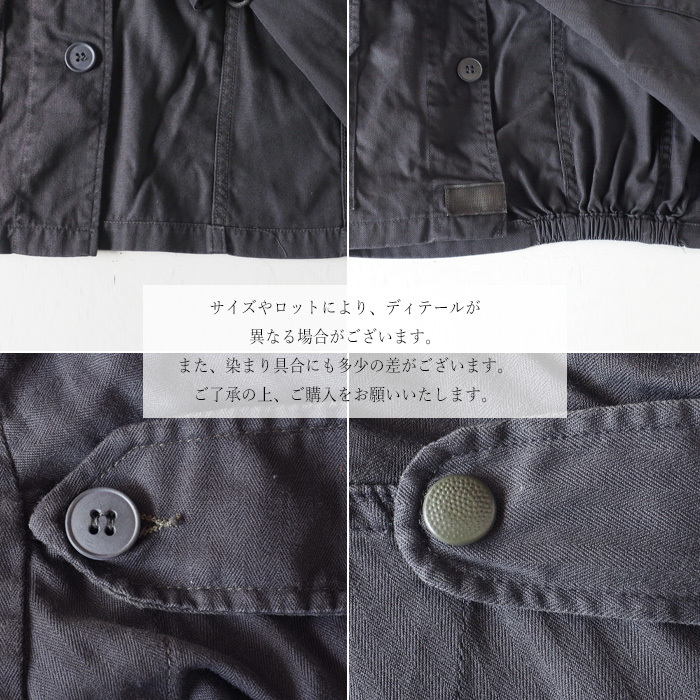 As this is a dead stock product, there may be slight variations in size, length, and specifications depending on the lot.
Please understand the above points as the nature of military products.
*Please contact us in advance if you would like to check the size of the product you will receive.
Points to note when ordering
The price of L size (120L) will change depending on the size up.
Due to the characteristics of military-released products (actual products), dead stock products may deteriorate over time.
Please consider purchasing after acknowledging small scratches, some stains, wrinkles, etc.
There is some unevenness in the dyed color.
We would appreciate it if you could understand it as one of the "flavors" of natural dyeing.
Please note that the color may transfer due to friction or getting wet with water.
When washing,
we recommend washing separately. When storing, store in a dark place away from light to prevent fading due to light.
Please refrain from tumble drying.